Steinway & Sons Unveils Their 600,000th Piano: The Fibonacci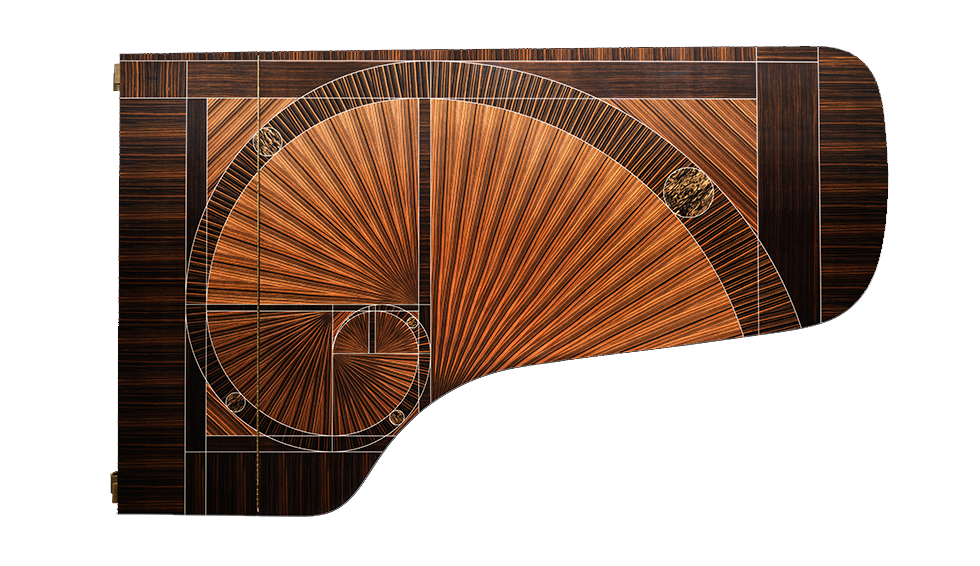 To celebrate their milestone piano, the manufacturer of the world's finest pianos, Steinway & Sons, had renowned designer Frank Pollaro create this feat of artistry, precision and engineering to celebrate the art of hand crafted pianos.
The Fibonacci piano is crafted by hand, using Macassar ebony, with an eye-catching spiral on the piano's lid and a synthetic ivory inlay and bronze details. It is a Model D nine foot concert grand piano and is priced at $2.4 million. The breathtaking piano took over 6,000 hours of work over four years to complete, to Steinway's high standards.
Frank Pollaro said of the piano, "Designing Steinway & Sons' 600,000th piano was an honour and a challenge. To me, knowing that this piano would become part of history meant that it had to be more than just a beautiful design, but also needed to visually convey a deeper message."
He went on to add, "As I considered the number 600,000, the Fibonacci spiral came to mind. The way in which it continues to grow but stay true to its form is very much like Steinway & Sons over these many years. Combining the universal languages of music and mathematics suddenly made perfect sense."
Darren Marshall, Chief Marketing Officer of Steinway & Sons said, "The Fibonacci spiral is a representation of perfect proportions and natural beauty. Without a doubt, Frank captured those qualities in this piano, creating a work of art for the eyes and the ears."
Steinway's 100,000th piano is now in the Smithsonian Institute in Washington D.C., after first being given to the White House. Destined to be as important a piece of musical history, the Fibonacci was first played by Lang Lang and it will now travel to the UK for a showcase at the Masterpiece London art fair.
Steinway & Sons has plans to make up to six exclusive limited edition Model B pianos inspired by the Fibonacci.
Please see our selection of pianos for sale.