Piano Extravaganza in London 22-24 March 2013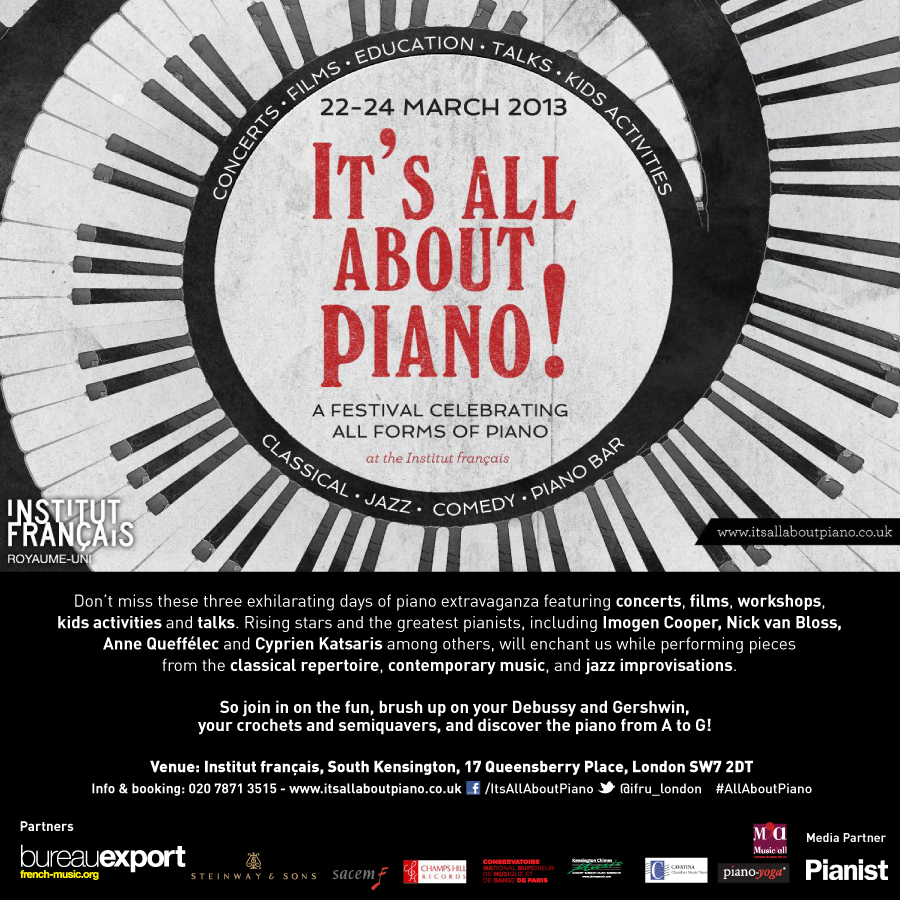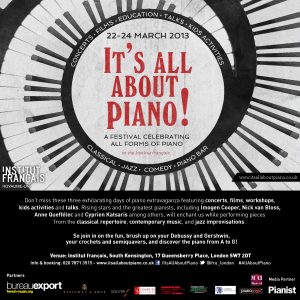 From 22 to 24 March, the Institut français in London will celebrate the king of all musical instruments with its very first piano festival, It's All About Piano! Come and discover the infinite possibilities offered by the black and white keys, from recitals to jazz, film screenings, kids activities, workshops, a ciné-concert and much more.
Whether you delight in Schubert or only sway to the jazz greats, whether you want to listen to the masters or watch fascinating films unveiling what goes on behind the scenes in the music world, It's All About Piano! is sure to enchant and amaze you.
This piano extravaganza will take over the Institut français for three whole days of musical treats, with the in-house bistro revamped into a piano bar, to the Ciné Lumière which will house the greatest performers – Imogen Cooper, Cyprien Katsaris, Felicity Lott, Baptiste Trotignon, and more – as they explore the full length of the piano repertoire, not to mention the Lizst Room, a secret space with exclusive screenings. The Cabinet of Curiosities series will take over the elegant setting of the Institut's Art Deco listed library to present little-known works played by young prodigies and established artists such as Anne Queffélec, and the elegant Salons, tucked away behind a hidden door, will host innovative performances.
So join in on the fun, brush up on your Debussy and Gershwin, your crochets and semiquavers, and discover the piano from A to G!