Product Description
Realistic touch & motion: Responsive Hammer Compact II keyboard action
The KDP110's brand new Responsive Hammer Compact II (RHCII) keyboard action has been developed to represent the distinctive touch of an acoustic grand piano.  Based on the highly-regarded RH keyboard action design, its spring-less technology and sturdy construction delivers consistent upward and downward motion for a smooth, natural, and highly authentic piano playing experience.
Acoustic piano key weighting
Just as acoustic pianos utilise heavier bass hammers and lighter treble hammers, the RHCII keyboard action also employs different hammer weights, appropriately graded for each playing range.
Such details provide greater stability during fortissimo passages, while preserving delicate pianissimo control, to satisfy the demands of even the most discerning pianist.
The Sound of a Grand Piano: Shigeru Kawai SK-EX concert grand
The Shigeru Kawai SK-EX concert grand piano was conceived as the next step in evolving the art of the piano.  Earning a reputation as the 'premier piano of Japan,' it graces the stages of concert halls and musical institutions around the globe, receiving universal acclaim for its exceptional clarity and dynamic range.
The SK-EX has frequently been selected by professional pianists at such prestigious events as the Chopin, Tchaikovsky, and Rubenstein international piano competitions.  With its truly magnificent tone and wonderfully responsive touch, the SK-EX can best be described with one word – incomparable.
True character in every note
The KDP110 digital piano captures the beautiful sound of Kawai's highly acclaimed concert grand piano, with all 88 keys of this exceptional instrument meticulously recorded, analysed and faithfully reproduced using advanced Harmonic Imaging technology.
Recording each key individually in this way, preserves the rich harmonic character of the SK-EX concert grand piano, and guarantees that the sound heard when playing any one of the KDP110's weighted keys is a faithful representation of the original acoustic source.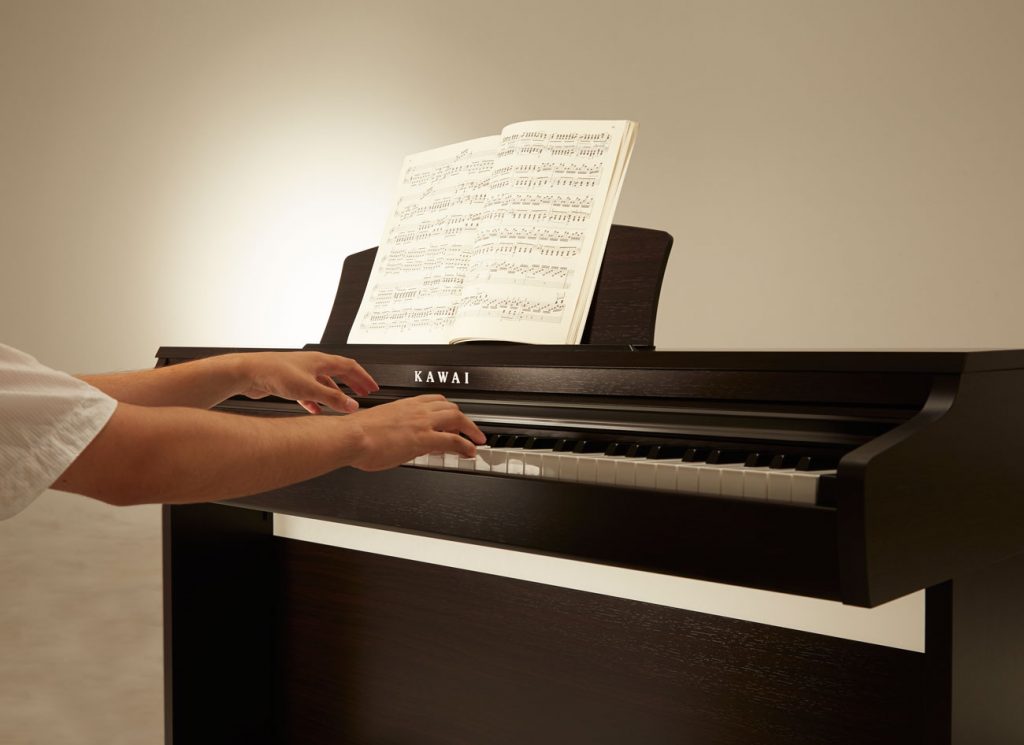 Harmonic Imaging technology
When playing a fine piano, the amount of pressure applied to the keyboard affects not only the volume of the sound produced, but also the unique tonal character of each note.  Therefore, in order to construct a realistic acoustic portrait of the SK-EX concert grand piano, not only is each key recorded individually, but also at various different volumes, ranging from gentle pianissimo to thunderous fortissimo.
The KDP110 offers a highly detailed acoustic portrait, employing Kawai's proprietary Harmonic Imaging sound technology to ensure smooth tonal transitions across the keyboard and throughout the entire dynamic range.
The Variety of a Digital Piano: Convenience & Flexibility
The elegant KDP110 also includes a variety of convenient digital functions to complement its authentic keyboard touch and rich grand piano sounds.  A selection of different instrument voices, built-in lesson songs, and the ability to record and playback one's performance are just some of the features accessible from the discretely placed cheek-block control panel, while Bluetooth® and USB functionality allow the instrument to be connected to other devices with ease.
Additional sounds & playing modes
Supplementing its realistic acoustic piano voices, the KDP110 also offers a selection of additional instrument sounds, including electric pianos, organs, harpsichord, vibraphone, and strings.
The Dual playing mode also allows two different voices, such as an acoustic piano and a string ensemble, to be played together for a more complex sound that inspires even greater musical creativity.
Connectivity options
The KDP110 features a USB-MIDI port and standard MIDI In/Out jacks, allowing the piano to be connected to a computer for notating compositions, or to other MIDI devices such as synthesisers and workstations.
Moreover, dual headphone sockets enable a teacher and pupil to study together in silence, or for two pianists to practise simultaneously using a single instrument.
Integrated Bluetooth® connectivity
In addition to USB-MIDI and standard MIDI connectors, the KDP110 also boast integrated Bluetooth MIDI technology, allowing the digital piano to communicate with supported smart devices wirelessly.
Once paired with a phone, tablet, or laptop, KDP110 owners can easily expand the instrument's functionality with a wide range of education, performance, and scoring apps.  A dedicated Kawai Virtual Technician control app is also freely available, providing an enjoyable way to learn about and adjust various acoustic piano characteristics from an attractive touch interface, without the need for additional adaptors or cables.