Product Description
FEEL INSPIRED
A piano that will encourage enthusiastic players to become accomplished pianists, and transform living rooms into grand concert halls. This is the ambitious philosophy behind Kawai's latest Concert Artist series – premium instruments that capture the essence of playing a magnificent concert grand piano, and inspire musicians to realise their true artistic potential.
To achieve this ambition, these first class instruments combine Kawai's industryleading wooden key keyboard action, with an array of stunning acoustic piano sounds reproduced using premium audio and speaker technologies, and a variety of convenient, modern features that enhance one's playing experience. The result is a series of exceptional digital pianos that deliver authenticity, performance, and reliability.
Introducing the new Concert Artist series from Kawai – feel inspired.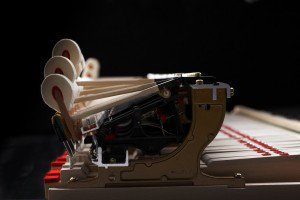 UNBELIEVABLE TOUCH
The keyboard action of an acoustic grand piano is comprised of black and white keys, graded hammers, and numerous other components, all working in harmony when each note is pressed. This beautifully designed mechanism allows gifted pianists to express a wealth of feeling and emotion in their music, as they respond to the tactile nuances transmitted through the keyboard.
Translating the piano action's intricate movements to a digital instrument, while retaining these acoustic-like subtleties is an extremely challenging task. The Concert Artist's latest Grand Feel III wooden-key keyboard action achieves this goal by drawing upon Kawai's 90+ years of knowledge and experience in crafting the world's finest pianos. This ensures an incredibly realistic touch feeling, and is one of the reasons for the CA99's inspiring playability.
Embracing many of the long-established principles associated with an acoustic piano, the Grand Feel III keyboard action utilised by the latest Concert Artist instruments combines realistic materials, motion, and mechanism to recreate the touch of the fi nest concert grand pianos. All eighty-eight black and white keys are crafted entirely from long pieces of wood, rather than a plastic shell with wooden sides. Th is ensures the weight of each key is distributed evenly throughout the length of the keystick, and guarantees an effi cient transfer of movement energy when the note is struck.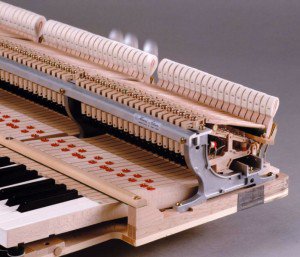 STUNNING SOUND
Eponymously named after the company's second president, the Shigeru Kawai range of luxury grand pianos were conceived as the next step in evolving the art of the piano. Each world-class instrument is hand-crafted by Master Piano Artisans (MPAs), using the finest available materials to ensure optimum touch, tone, and artistic expression. Widely regarded as 'the premier piano of Japan', the flagship SK-EX concert grand graces the stages of concert halls and musical institutions around the globe, receiving universal acclaim for its magnificent tonal clarity and exceptional dynamic range. In order to recreate the peerless sound of a Shigeru Kawai SK-EX digitally, the latest Concert Artist models incorporate a variety of unique technologies that capture and reproduce characteristics of the original piano with incredible realism and authenticit
PREMIUM SOUND DELIVERY
The distinctive sound of an acoustic piano is produced by felt hammers striking metal strings. As these strings vibrate, they transfer
energy through the bridge onto the instrument's wooden soundboard, resulting in a rich, powerful sound. In order to reproduce these characteristics, and transform the digitally generated Shigeru Kawai SK-EX sound into an authentic acoustic piano tone, the latest Concert Artist instruments feature premium quality audio processing and amplifier technologies, and multi-speaker delivery systems developed in collaboration with Onkyo. The flagship CA99 model raises the bar even further, with the inclusion of a real wooden soundboard, achieving a new standard in digital piano audio fidelity and realism.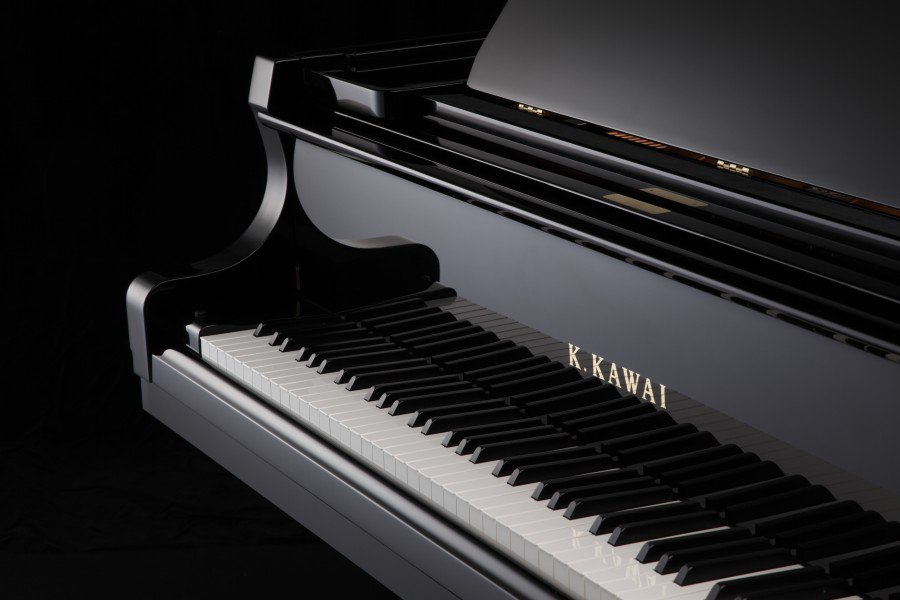 INTEGRATED CHEEKBLOCK TOUCHSCREEN DISPLAY
Concealing their impressive digital features, the Concert Artists' main control panel is discreetly embedded within the pianos' left cheekblock. This helps to preserve the instruments' attractive pianolike appearance, and allows performers to enjoy the simple pleasure
of playing music without the visual distraction of flashing lights and rows of buttons directly above the keyboard. The large 5″ touchscreen display features a modern user interface that is optimised for pianists, while providing easy access to additional sounds and functions that inspire musical creativity. Adjustments to the Virtual Technician and other settings are automatically recalled every time the instrument is powered on, while the display itself can also be set to gently fade out while playing in order to aid concentration.
HEADPHONE SOUND
One of the many benefits of owning a digital piano is the ability to connect a pair of headphones, allowing players to enjoy the instrument without disturbing others. The CA99's Spatial Headphone Sound (SHS) technology subtly enhances the depth and realism of the pianos' sound when listening through headphones, and helps to reduce auditory fatigue when playing for extended periods of time.
FULL BLUETOOTH
The latest Concert Artist instruments feature built-in Bluetooth MIDI connectivity, allowing the pianos to communicate with smart devices wirelessly, and be enjoyed with a wide variety of music-related apps.
Moreover, Bluetooth Audio capability also enables the sound from songs and videos to be played through the instruments' Onkyo
amplifier and speaker systems without any additional cables. APT-X is supported as well for highest audio quality.
PIANOREMOTE APP
The CA99's redesigned communication standard allows the user-friendly touchscreen interface to also be accessed via the dedicated PianoRemote app for iOS and supported Android devices. The app connects to the piano wirelessly via the Concert Artists' integrated Bluetooth, providing an effortless way to change sounds, or enjoy the vast array of built-in music content from the comfort of an armchair.additional cables. (available from April 2020)