Product Description
Touch
The CN39's class-leading Responsive Hammer III keyboard action recreates the supreme touch of an acoustic grand piano, with its realistic movement and rigid, springless design providing a smooth and natural piano playing experience.  The instrument's triple-sensor key detection system enhances responsiveness and accuracy, while structural reinforcements throughout the action assembly help to minimise noise and key wobble during staccato and fortissimo passages.
In addition to grade-weighted hammers, the Responsive Hammer III keyboard action also features counterweights embedded within each black and white key. As with an acoustic piano, these finely balanced weights help to lighten the touch of the keyboard during pianissimo passages, while adding a feel of greater substance when playing with force.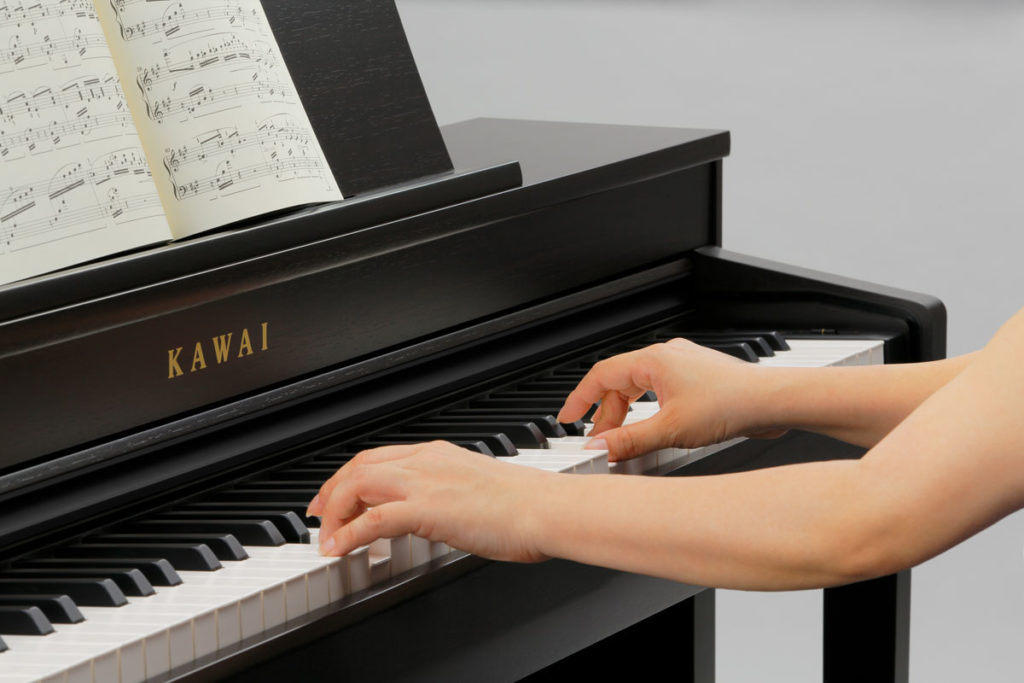 Sound
Earning a reputation as the 'premier pianos of Japan', Shigeru Kawai instruments grace the stages of concert halls and musical institutions throughout the world, and are prized for their outstanding tonal clarity and exceptional dynamic range.
The new CN39 captures the magnificent tone of two premier Shigeru Kawai instruments: the flagship SK-EX Concert and mid-sized SK-5 Studio grand pianos, allowing musicians to enjoy the contrasting properties of each.
In addition, the CN39 also features the distinctive sound of Kawai's highly acclaimed EX concert grand piano, which has frequently been selected by professional pianists in such prestigious events as the Chopin, Tchaikovsky, and Rubinstein international piano competitions, among others.
All three instruments are faithfully reproduced with full 88-key sampling using proprietary Harmonic Imaging™ sound technology, to establish a new standard in digital piano tonal quality.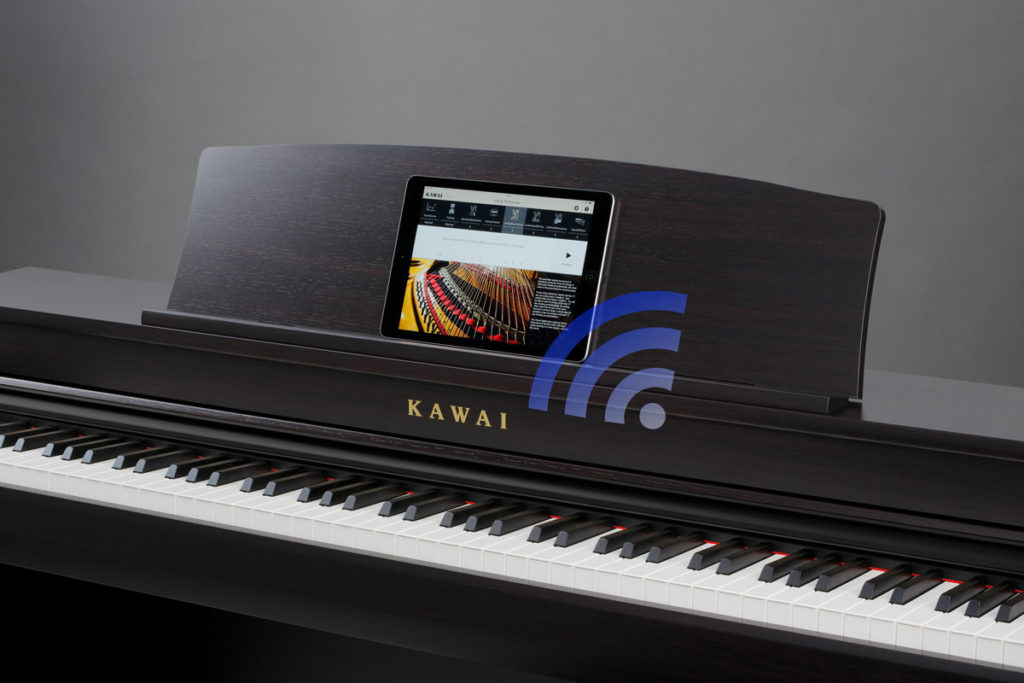 Integrated Bluetooth® connectivity
In addition to standard USB and MIDI ports, the CN39  also boast integrated Bluetooth MIDI technology, allowing the digital piano to communicate with supported smart devices wirelessly.
Once paired with a phone, tablet, or laptop, CN39 owners can easily expand the instrument's functionality with a wide range of education, performance, and scoring apps.  A dedicated Kawai Virtual Technician control app is also freely available, providing an enjoyable way to learn about and adjust various acoustic piano characteristics from an attractive touch interface, without the need for additional adaptors or cables.
Onkyo designed sound hardware
The CN39 motherboard and sound hardware is designed for precise signal conversion and optimum sound quality.  Onkyo's unrivalled knowledge and experience in producing premium audio components ensures clear, high-fidelity sound with minimal distortion. The CN39's premium quality Onkyo speaker drivers were selected for their flat frequency response and ultra-low distortion characteristics, ensuring the most accurate reproduction of the original Shigeru Kawai SK-EX concert grand piano.
Unrivalled in its price range, the CN39's high-performance 4-speaker output system is designed to reproduce the harmonic spectrum of an acoustic piano. Lower-range frequencies are delivered through the underside of the instrument, while mid and high frequencies are projected outward via top-mounted speakers, resulting in an expansive tone that closely mirrors the sound projection of a grand piano.
The Variety of a Digital Piano: Convenience & Flexibility
Complementing the instrument's class-leading Responsive Hammer III keyboard action and Progressive Harmonic Imaging piano sounds, the CN39 also offers a variety of convenient digital features that further enhance one's musical enjoyment.
A selection of different instrument voices, built-in lesson songs, and the ability to record and playback performances are just some of the features accessible from the cheek-block control panel, with built-in Bluetooth® functionality for connecting to smart devices wirelessly.
In addition to standard USB and MIDI jacks for connecting to computers or other instruments, the CN39 also features integrated Bluetooth® MIDI and Audio technologies that allow the instrument to communicate with supported smart devices wirelessly.
Once paired with a phone, tablet, or laptop, CN39 owners can enjoy a wide variety of exciting music-related apps that enhance their learning and playing experience, or stream audio from songs and videos directly through the instruments' premium amplifier and speaker systems without the need to connect additional cables.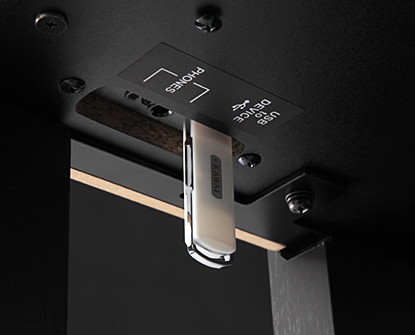 Flexible USB connectivity
The CN39 is equipped with modern USB connectors that not only allow the instrument to be connected to a computer for MIDI use, but also to load and save data to USB memory devices directly.
This latter USB to Device functionality allows favourite instrument registrations, and memorable recorder songs stored within internal memory to be safely preserved on USB flash drives, or for 16-track standard MIDI files (SMF) to be recorded, played back, and enjoyed using the instrument's superb Progressive Harmonic Imaging sounds.
MP3/WAV Playback & Record
USB memory devices can also be used to play back MP3 or WAV audio files, allowing musicians to learn the chords or melody for a new piece, or to simply play along with their favourite songs.
It is even possible to record and overdub entire performances directly as MP3 or WAV audio files for emailing to family and friends, or casual listening away from the piano.