Product Description
'Responsive Hammer III' weighted-key action, with Ivory Touch key surfaces and Let-off simulation
The Responsive Hammer III (RHIII) action recreates the distinctive touch of an acoustic grand piano, with its realistic movement and accurate 3-sensor technology providing a smooth, natural, and highly responsive piano playing experience. The weight of the keyboard is appropriately graded to mirror the heavier bass hammers and lighter treble hammers of an acoustic piano, while structural reinforcements within the action assembly ensure greater stability during fortissimo and staccato passages. The MP7SE stage piano also features Kawai's Ivory Touch key surfaces that gently absorb finger moisture to assist the player's performance, while, let-off simulation recreates the subtle 'notch' sensation felt when softly playing the keys of a grand piano, satisfying the expectations of the most discerning pianists.
Shigeru Kawai SK-EX, SK-5, and Kawai EX instruments reproduced with Harmonic Imaging XL sound technology and 88-key piano sampling
The MP7SE digital piano captures the rich, expressive sound of the Kawai SK-EX, SK-5, and EX grand pianos, with all 88 keys of these exceptional instruments meticulously recorded, analysed and faithfully reproduced using Harmonic Imaging™ XL sound technology. This unique process accurately recreates the broad dynamic range of the original grand pianos, affording pianists an extraordinary level of expressiveness ranging from the softest pianissimo to the strongest, boldest fortissimo. The instrument's built-in Virtual Technician feature allows various characteristics of these acoustic piano sounds to be shaped at the touch of a button, with settings to adjust string and damper resonance, in addition to subtle hammer, damper, and key release noises. This personalised piano sound is further enhanced with atmospheric reverberation effects, delivering a rich, vibrant piano tone with breathtaking realism and authenticity.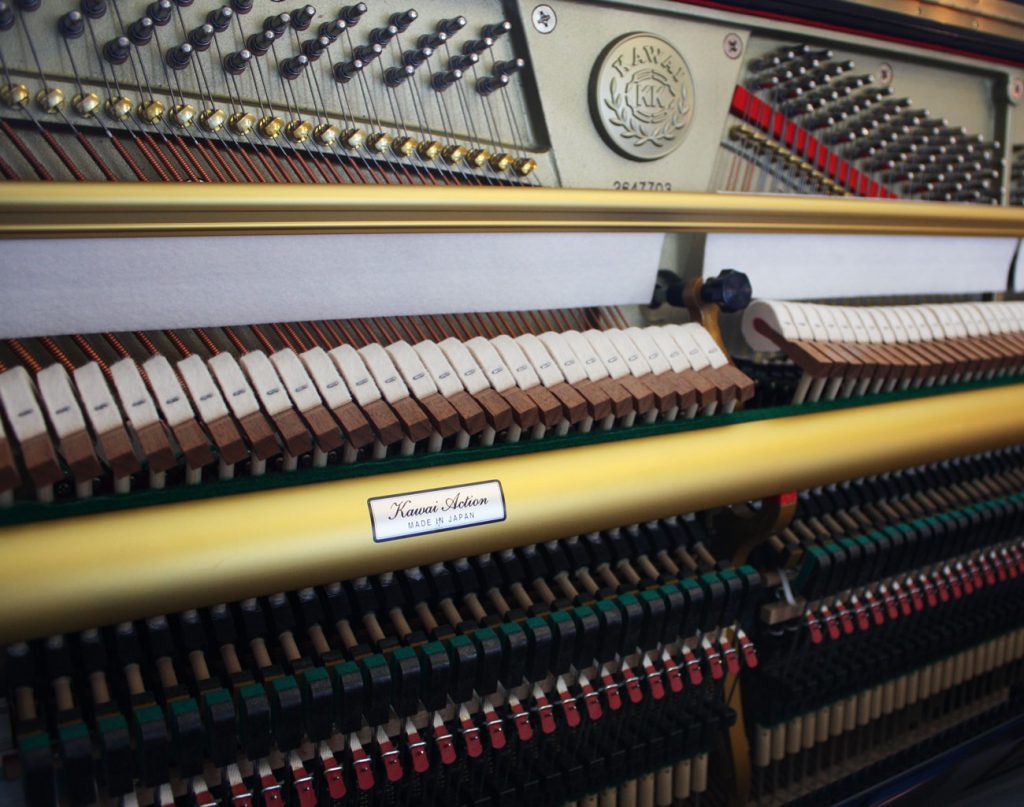 Vintage EPs, twin effects, and amp simulation
The MP7SE also features an excellent selection of vintage electric piano sounds, each with their own distinctive characteristics. Enjoy their natural, organic sound, or pass the signal through a wide variety of classic effects stomp boxes, before plugging into one of the five classic amp and speaker cabinets – complete with realistic microphone character and position modelling.
Classic tonewheel organs with drawbar control and authentic percussion
The MP7SE's tonewheel organ simulation transforms the stage piano into a vintage electromechanical organ, complete with nine real-time adjustable drawbars and authentic percussion controls. Organ enthusiasts can dial-in favourite drawbar registrations, adjust the 'condition' of the organ tone, and select their preferred rotary speaker character, then store the sound to memory for immediate recall. With organ mode selected, the MP7SE adjusts the strike point for the keyboard, allowing blazing runs and greasy licks to be played on its fully-weighted action as easily as the real thing.
High quality strings, pads, brasses, basses and more
Supplementing the realistic acoustic pianos, vintage electric pianos, and growling tonewheel organs, the MP7SE features a broad range of high quality strings, pads, synths, brass and woodwind voices, basses, guitars, and a whole host of other useful sounds. These supplementary sounds are ideal for building layers, adding texture to other instruments, or for playing individually, at the front of the mix. And if the stock sound isn't quite perfect, feel free to customise and tweak using the MP7SE's flexible ADSR parameters and resonance/cut-off controls – all immediately accessible directly from the panel.
Four zone master keyboard controller
The MP7SE maintains the MP series' classic four-zone approach, with each zone able to play internal sounds, external MIDI devices, or both types simultaneously. Zones can be played individually, or freely split, layered and velocity switched to create stunning personalised performances. The MP7SE's powerful customisation allows parameters and settings for each zone to be adjusted and controlled independently, making for an unbelievably versatile all-in-one performance instrument.
Intuitive operation, large LCD, real-time assignable control knobs
The MP7SE's control panel is clearly arranged and easy to use, with related functions grouped together and placed where you'd expect to find them. A large LCD display and four assignable control knobs, allow several parameters to be adjusted directly in real-time, without getting lost in menus – concentrate on playing, rather than trying to remember which button does what.
256 Setup memories: enough for the busiest stage musician
The MP7SE allows every single customised sound, knob position, fader level, and adjustable parameter to be stored in memory as a SETUP, and recalled at the touch of a button. With over 250 SETUP memories, the MP7SE is ideal for busy stage musicians who like to plan several shows ahead, before going out on the road.
USB to Device functionality, with MP3/WAV/SMF file recording and playback
The MP7SE is equipped with USB connectors that not only allow the instrument to be connected to a computer for MIDI use, but also to load and save data to USB memory devices directly. This 'USB to Device' feature allows customised sounds, SETUP memories, and recorder songs stored in internal memory to be saved to USB for posterity. USB memory devices can also be used to play back MP3 or WAV audio or SMF MIDI files, allowing performing musicians to play along with professional backing tracks, or simply learn the chords or melody for a new piece. It is even possible to save performances directly as MP3, WAV, or SMF files for emailing to band members, casual listening away from the keyboard, or further editing using an audio workstation.