Daniel Barenboim Designs Radical New Piano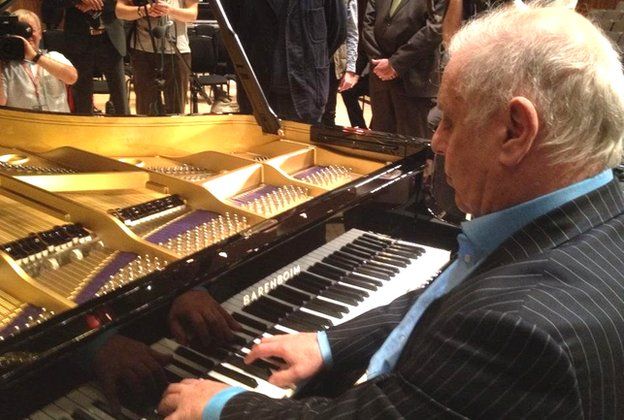 This week, Daniel Barenboim unveiled his radical new piano design, which he has declared is a 'sound alternative'.
To a small group of journalists, Barenboim revealed the piano he conceived back in 2011 and had designed and built by Belgian instrument maker Chris Maene, supported by Steinway and Sons.
The conception of the design occurred to Barenboim upon playing Franz Liszt's 200-year-old restored grand piano in Siena, Italy. He wanted a piano that used modern technologies for evenness of touch, power and stability – but had the transparent sound quality and distinguishable colour registers of Liszt's piano.
"The clearly distinguishable voices and colour across its registers of Liszt's piano inspired me to explore the possibility of combining these qualities with the power, looks, evenness of touch, stability of tuning and other technical advantages of the modern piano."
At the unveiling, Barenboim played part of Beethoven's Appassionata on his Steinway, then the same piece on his new piano. The mixed reaction ranged from those who were thrilled with the new sound and others found it largely similar.
Of his new piano's sound, Barenboim said, "There is a difference in the quality of the sound. It has more transparency, more clarity and by itself less blend but it gives you the opportunity to create a blend yourself as a player – and I like that."
There have been few changes to the fundamental design of pianos in the last 100 years. Although it has a similar casing to modern concert grand pianos, Barenboim's piano has a number of major differences.
Straight parallel strings rather than diagonal-crossed strings.
The veins of the wooden soundboard go in different directions.
A double bridge
Ribs and bracings are specially-designed
Repositioned hammers
Repositioned yellow brass strings (instead of the usual red brass)
The piano combines the touch, stability, and power of a modern piano with the transparent sound quality and distinguishable colour registers of more historic instruments.
These dramatic differences mean Barenboim's piano has an alternative sound must be played differently. "It is a different relationship between the tip of the fingers and the key. And the pedalling … the transparency of the sound makes you rethink the use of the pedals."
"I've fallen in love with it. I want to spend as much time with it as possible." – Barenboim
Daniel Barenboim will be playing his new piano  during the Barenboim Project at London's Southbank Centre from 27 May – 2 June, where he will perform a complete cycle of Schubert's piano sonatas.
See The Piano Shop Bath's selection of grand pianos.
Photo: BBC